Posted on Wed 11 July 2018 in misc • 4 min read
Poniższy tekst jest moim tłumaczeniem tekstu Adama Flynna, który w 2014 roku został zamieszczony na wiki Projektu Hieroglyph. Jest to pierwsza kompleksowa próba opisu nowopowstającego ruchu literackiego i nowej wizji przyszłości zwanej "Solarpunkiem".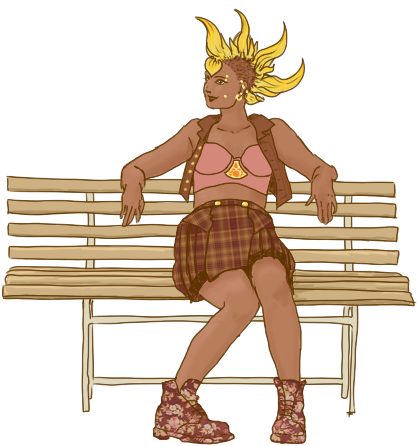 Copyright by Olivia/Land of Masks and Jewels
---
Ciężko jest być futurologiem mając mniej niż trzydzieści lat.
W trakcie naszej edukacji - niezależnie od kraju, który nam ją zapewnił - mieliśmy okazję spotkać się z prezentacjami na TEDzie czy WorldChanging1, pięknie zaprojektowanymi reklamami ekologicznej konsumpcji i organizacjami pozarządowymi promującymi zrównoważony rozwój. W tym samym czasie dorastaliśmy jednak z zapowiedziami zagrożeń mających ziścić się zanim jeszcze przejdziemy na emerytury - tak z powolną acz nieubłaganą militaryzacją policji2, jak i elitami politycznymi całkowicie niepotrafiącymi poradzić sobie z istniejącym, ale jeszcze nie tak pilnym zagrożeniem zmiany klimatu. Wielu z nas sądzi, że nieetyczne jest sprowadzać dzieci na taki świat. Wyrośliśmy w cieniu tych zagrożeń i jeżeli czasem przypominamy grzyb - jest to komplement dla naszych umiejętności przystosowawczych.
Jesteśmy solarpunkami, ponieważ jedyne inne opcje to wyparcie lub rozpacz.
W obietnicach Singularystów i Transhumanistów jest miejsce dla jednostek, nie …
Continue reading
---