Posted on Tue 19 May 2020 in misc • 4 min read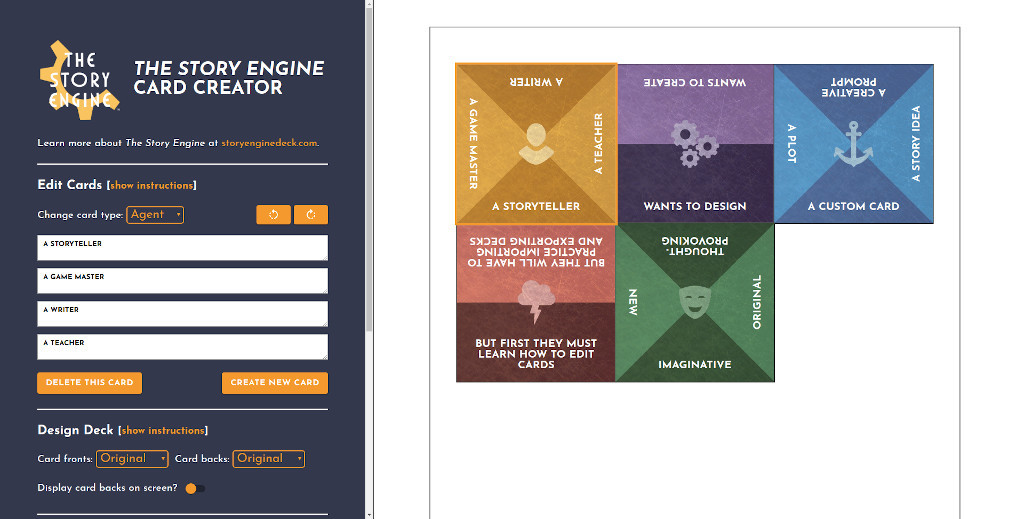 I've just finished working on an app - The Story Engine Card Creator based on The Story Engine by Peter Chiykowski, with its source available on Github on aGPLv3!
The Story
A few months ago a friend sent me an interesting Kickstarter campaign - The Story Engine, a card game of writing prompts, helping people generate new stories or challenge themselves to write short fiction about whatever they draw. It offered five kinds of cards, each presenting you with a few options to choose, even after the initial random drawing happened.
An Agent card (An Artist / A Dancer / A Writer / A Musician), an Engine card (Wants To Finally Tell The Truth About/Is Trying To Spread A Lie About), an Anchor card (A Shrine / A Simulation / A Drug / A Dream), a Conflict card (But Their Family Stands In The Way / But It Will Cost Them The Only Family They Ever Known) and finally, an Aspect (Blighted / Thoughtful / Icy / Brilliant). Drawn those from their separate decks, I can tell a story about
An Brilliant Artist, Who Wants To …
Continue reading
---